| | | |
| --- | --- | --- |
| | Image Data converter Ver.4.2.03 for Mac OS X | |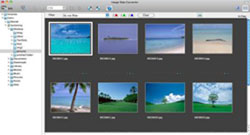 Image Data Converter displays RAW data and can adjust the brightness or color as well as output development to a JPEG or TIFF file format.


Improvements from the previous version

Color reproducibility of pictures taken with flash
Applicable products

DSC-RX1, DSC-RX1R, DSC-RX10, DSC-RX100, DRC-RX100M2
NEX-3, NEX-3N, NEX-5, NEX-5C, NEX-5N, NEX-5R,NEX-5T, NEX-6, NEX-7, NEX-C3, NEX-F3
NEX-VG20/VG20E, NEX-VG30/VG30E, NEX-VG900/VG900E
ILCE-3000, ILCE-5000, ILCE-6000, ILCE-7, ILCE-7R
DSLR-A100, DSLR-A200, DSLR-A230, DSLR-A280, DSLR-A290, DSLR-A300, DSLR-A330, DSLR-A350, DSLR-A380, DSLR-A390, DSLR-A450, DSLR-A500, DSLR-A550, DSLR-A560, DSLR-A580, DSLR-A700, DSLR-A850, DSLR-A900,
SLT-A33, SLT-A35, SLT-A37, SLT-A55/A55V, SLT-A57, SLT-A58, SLT-A65/A65V, SLT-A77/A77V, SLT-A99/A99V

There are models which are not sold in certain countries and regions.


OS
Refer to <here> for details.
Downloading

Please click the [Download] button below.
The download of [IDC423_1404b.dmg](8,914,195Bytes) begins.

Installation procedure



Double click the [IDC423_1404b.dmg] icon displayed on the desktop.
It is normally saved in the Download folder.


Double click [IDS_INST.pkg] in the opened folder to start installation.
Follow the instructions in the screen.