| | | |
| --- | --- | --- |
| | Wireless Auto Import Ver.1.3 | |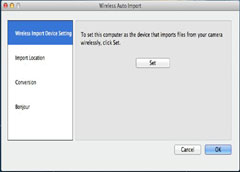 Wireless Auto Import allows saving of images of the target device to a Mac connected through the network via Wi-Fi.
(It is necessary to authenticate the device to the Mac via USB connection prior to its usage.)

Improvement points
OS X v10.10 is added for the supported OS.
Applicable products

DSC-HX30/HX30V, DSC-HX400/HX400V, DSC-HX50/HX50V, DSC-HX60/HX60V, DSC-HX90/HX90V, DSC-RX10, DSC-RX100M2, DSC-RX100M3(*1), DSC-TX300/TX300V, DSC-WX80, DSC-WX200, DSC-WX220, DSC-WX300, DSC-WX350, DSC-WX500
FDR-AX30(*1), FDR-AX33(*1), FDR-AXP33(*1), FDR-AXP35(*1), FDR-AX100(*1)/AX100E(*1), HDR-CX330/CX330E, HDR-CX440(*1), HDR-CX480(*1), HDR-CX530E, HDR-CX540, HDR-CX610E, HDR-CX620(*1), HDR-CX670(*1), HDR-CX900(*1)/CX900E(*1), HDR-PJ275, HDR-PJ330E, HDR-PJ340/HDR-PJ340E, HDR-PJ350/HDR-PJ350E, HDR-PJ410(*1), HDR-PJ440(*1), HDR-PJ530E, HDR-PJ540/HDR-PJ540E, HDR-PJ610E, HDR-PJ620(*1), HDR-PJ670(*1), HDR-PJ800, HDR-PJ810/HDR-PJ810E, HDR-PJ820/HDR-PJ820E
NEX-5R, NEX-5T, NEX-6
ILCA-77M2
ILCE-5000, ILCE-5100(*1), ILCE-6000, ILCE-7, ILCE-7M2(*1), ILCE-7R, ILCE-7S(*1)
ADP-WL1M (Applicable products : HDR-CX400E, HDR-CX410VE, HDR-CX430V/VE, HDR-CX510E, HDR-CX630V, HDR-PJ420E/VE, HDR-PJ430/E/V/VE, HDR-PJ510E, HDR-PJ630V, HDR-PJ650E/V/VE, HDR-PJ660/E/V/VE, HDR-PJ780E/VE, HDR-PJ790/E/V/VE)

(*1) :

Sending images including XAVC S videos is not guaranteed.To send images which include XAVC S videos, connect the device to the Mac via USB, and use < PlayMemories Home >.

&nbsp

Some models are not sold in certain countries and regions.

OS
OS X (v10.7 to v10.10)
* Notes
Supports only Macs with Intel processors.
(Will not operate on Macs with Core Solo/Core Duo processors.)


Downloading
Please click the [Download] button below.
The download of [WirelessAutoImport1503a.dmg](2.59MB(2,722,134bytes)) begins.

Installation procedure



Double click the [WirelessAutoImport1503a.dmg] icon displayed on the desktop.
It is normally saved in the Download folder.


Double click [WirelessAutoImport.pkg] in the opened folder to start installation.
Follow the instructions in the screen.。
* Notes
OS X v10.8 or later may not be able to perform the downloaded installer depending on the OS settings.
Refer to <here> for details.


When the installation is complete, click Close.

For usage, refer to the help section of < Wireless Auto Import >.


Limited only to the first time, follow the below procedures to authenticate the device.

Before Use : If your camera is connected to your Mac with a USB cable, disconnect it.

Start Finder and click [Applications], and then double-click [Wireless Auto Import].
The [Wireless Auto Import] settings window is displayed.


Click [Wireless Import Device Setting], and then click [Set].
If you are prompted to enter an administrator password, enter it.


Connect the camera to your Mac with a USB cable.
The driver will be installed, and your Mac is set as the import destination for videos and photos.


Disconnect the camera from your Mac.


* Notes :

If "Cannot find a camera. Check that the camera is connected to the computer with a USB cable." is displayed when you have connected your camera to a Mac with an USB cable, disconnect the USB cable, reboot your Mac, then perform the [Wireless Import Device Setting] setting.


The [Wireless Import Device Setting] settings must be configured when you import videos and photos to your Mac for the first time.


From the second time, if you want to select another Mac as the import destination, you must configure the [Wireless Import Device Setting] settings again.