The ILCE-9M2/7RM4/7RM4A has a variety of customization features, such as custom keys and a memory function, which enable photographers to assign their desired functions to each key. This setting guide contains helpful information for using each feature.
Switching the camera settings quickly according to the shooting scenario
Memory/Memory recall
You can register camera settings in advance and recall them using the mode dial.
Instead of operating the mode dial, you can also recall the registered settings instantly by pressing and holding a button.

You can register up to three settings to the mode dial.
Four additional settings can be registered to a memory card.

Recalling frequently used functions instantly
There are four customization features: Custom Key, My Dial, Function Menu, and My Menu.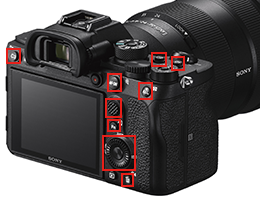 Custom keys
It is recommended that you assign the functions you use most frequently to custom keys, since just pressing a button is the quickest way to recall functions. You can use eleven keys* as custom keys.
* If the lens has a focus hold button.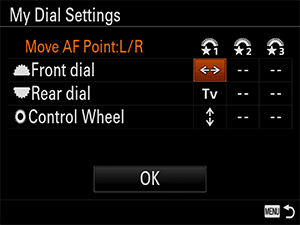 My Dial
As with Custom Key, desired functions can be assigned to the front/rear dials and the control wheel. You can switch between the default functions and the assigned functions by using the custom key to which you have assigned the switching function.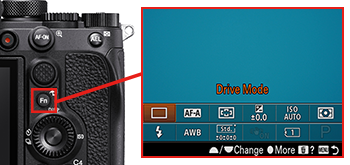 Function menu
By pressing the Fn (function) button, you can display up to twelve functions at the bottom of the monitor. You may find it convenient to allocate the functions you use most frequently among those not assigned to custom keys here.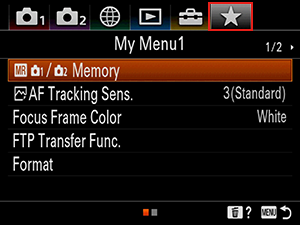 My menu
Allocate the functions you use most frequently after those on the function menu to the My menu. You can save time by organizing your favorite items in the My menu instead of searching through MENU items.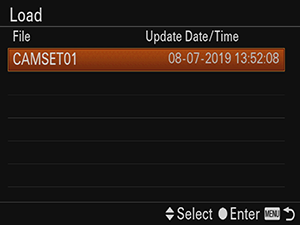 Saving camera settings to a memory card (Save/Load Settings)
Sets of customized camera settings* can be saved to a memory card using the [Save/Load Settings] function. Use this function to create a backup, or to copy settings to other cameras of the same model.
* Some settings cannot be saved.

Other
In addition to the functions above, the following functions will also help you master use of the camera.
[AF Area Regist.] (AF Area Registration Function): Moves the focusing frame instantly to a position you registered in advance by pressing a custom key.
[Swt. V/H AF Area] (Switch Vertical and Horizontal AF Area): Switches the type of focus area and the position of the focusing frame according to the orientation of the camera (vertical/horizontal).