Focal length is the distance from the center of the lens to the image sensor (focal plane), and each lens has a different focal length.
Focal length is important because it determines the range of a scene you can capture (angle of view). As shown in the following photographs, the shorter the focal length is, the wider range you can capture, while the longer the focal length is, the larger distant objects appear.
(*) The relationship between focal length and angle of view varies by camera. The information in this Shooting Guide is based on APS-C format cameras, unless specified otherwise.
200 mm

330 mm
Generally, lenses with a focal length of around 35 mm are called "normal lenses," because they have an angle of view close to the human visual field. Lenses with a focal length shorter than this are called "wide-angle lenses," and those with a longer focal length are called "telephoto lenses." However, there are no strict standards for these terms. Use different lenses according to the subjects or images you want to shoot.

Shot with a wide-angle lens
Focal length: 11 mm Shot with a telephoto lens
Focal length: 250 mm

Let's check the focal length of your lens. The range of the focal length available with the lens is printed on the lens. For example, focal lengths from 55 mm to 200 mm are available with the "SAL55200-2" in the picture below.
Also, on the mount side of the lens barrel (near the camera body), you can see the mark for the focal length currently set. In the picture below, the current focal length is 55 mm.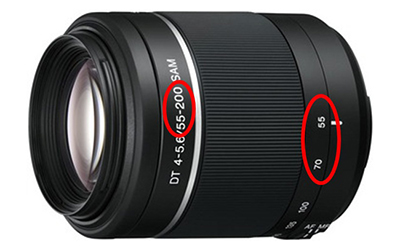 In this picture, "55-200" on the left side is the range of the focal lengths available with the lens. The white line on the right side indicates the focal length currently set.