The shutter speed is the length of time that the shutter in front of the image sensor is open. While the shutter is open, the image sensor is exposed to light, from which the image is created.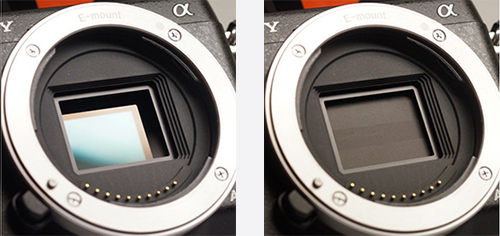 [1] The shutter is open.[2] The shutter is closed.
The above pictures show the shutter part of the E-mount camera. The shutter is open in [1], and the image sensor is exposed to light. The longer the shutter speed is, the more light reaches the image sensor. For example, if the shutter speed is changed from 1/60 sec to 1/30 sec, the amount of light is doubled.
Along with the aperture, which adjusts the amount of light coming from the lens, the shutter speed is one of the factors to determine exposure.
In the auto shooting modes, P-mode, and A-mode, the camera determines the shutter speed automatically. In the S-mode, you can set the shutter speed as you like.