Editing Photos
"PlayMemories Home" is loaded with many different functions for editing photos.
1. From the Calendar or Folder view, select the photo to edit and display it in full screen.
2. Click "Tools" in the upper right of the screen and select your desired edit function.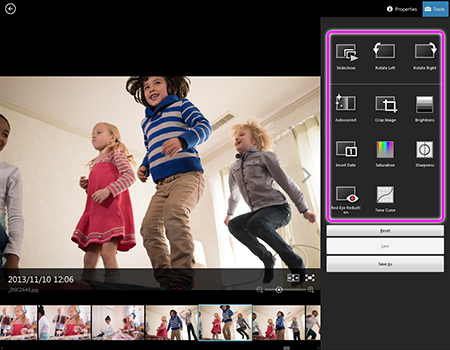 3. Follow the on-screen instructions.
4. When you finish editing, save the photo.
Red-Eye Reduction:
The use of a flash when photographing people can cause a red reflection in the eyes of subjects. You can correct the red-eye portion of photos.
Crop Image:
You can delete unwanted sections of photos.
Insert Date:
You can insert a date stamp into photos.
Autocorrect:
You can correct the brightness and contrast of a photo to the most suitable levels for that image automatically.
Brightness:
The brightness and contrast of photos can be corrected to your preference.
Saturation:
You can adjust the saturation levels.
Tone Curve:
You can adjust the brightness of each channel.
Sharpness:
You can emphasize the outline of photos.
[Hint]
- To change the date and time stamp, from the [Edit] menu, select [Change Date of Selected Media Files] to display the [Change Date of Selected Media Files] window. Change the data and time stamp and click [OK].
[Note]
- You may not be able to edit some photos such as those taken in Multi Burst or RAW mode.

PlayMemories Home (Windows)
Was this article helpful?

We are holding a simple survey to further improve our services. If you could answer the survey, it would be much appreciated.
Your responses will be used to further develop and improve our products/services. The survey responses will be processed statistically and will not be disclosed in a manner in which an individual can be distinguished.