Making an Inquiry
Before you contact our customer center to ask for any technical support for PlayMemories Home, please check and keep the following information ready at hand.
About your product and PlayMemories Home:
Model name (shown on the sticker attached to the product)
ex. ILCE-6000
Specific symptom (error message, etc.)

Version of PlayMemories Home

To check the version, start PlayMemories Home and select [About PlayMemories Home] in the [Help] menu. A window where the version is displayed opens.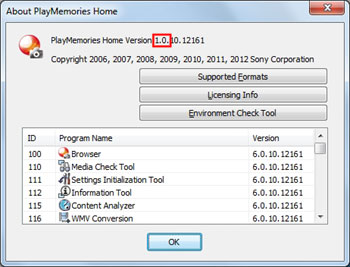 About your computer:
Manufacturer
RAM
Free space in the hard disk

Model name

OS and its version

To check the basic information of your computer, click [Start], right-click [Computer], then select [Properties]. To check more detailed information, select [Start] > [All Programs] > [Accessories] > [System Tools] > [System infromation].