The smartphone and all cameras are connected to and communicate through an access point Wi-Fi. Up to 50 cameras can be controlled.
Requires PlayMemories Mobile 6.2 or later and camera system software (firmware) Ver.2.00 or later.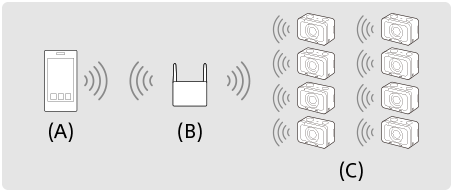 (A) :

Smartphone

(B) :

Access point

(C) :

Cameras (clients)
See the <Help Guide> for how to connect.
After connecting and launching PlayMemories Mobile, select

in the top right corner, then [Settings], and turn on [Connect w/ camera via access point].