PlayMemories Home Install Error - Mac
If you cannot install or start up PlayMemories Home, or if it does not operate properly, follow the instructions below.
IMPORTANT : Tools are designed for the every version of PlayMemories Home. This page provides the latest version of the tools. Always download and use the latest version provided here.
If you use Windows, see <PlayMemories Home Install Error - Windows>.
1. Using Repair Tool
1.1. Download the Repair Tool [PMHMac_PREPARE.dmg] below.
End-User License Agreement
PMHMac_PREPARE.dmg
1.2. Double-click the downloaded [PMHMac_PREPARE.dmg].
1.3. Double-click the [PMH_Preparer] in it. If you are asked to input password, input the administrator password.
1.4. The message [Are you sure to uninstall PlayMemories Home?] appears. Click [Yes]. The Repair Tool erases all the related items regarding PlayMemories Home. (It does not erase the images such as photos or movies.)
1.5. When the message [PlayMemories Home has been uninstalled] appears, click [OK] and restart the computer.
1.6. Check if PlayMemories Home has uninstalled correctly.
1.7. Download and install the latest version of PlayMemories Home.
<Download the latest version of PlayMemories Home>
1.8. When PlayMemories Home has been installed, turn on your camera and connect it to the PC using the USB cable. If your problem is solved, [PMHMac_PREPARE.dmg] on the desktop can be deleted.
1.9. To report the error, the screenshot(s) is required. Capture an error message or the screenshot of the error. If you cannot capture the screenshot, note the error message or sympton in detail.
If the following crash report appears, click [Show Details], copy the contents to the text editor and save it.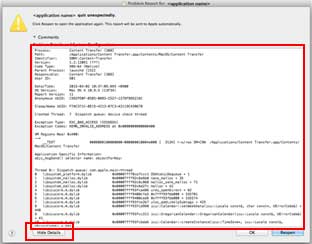 2. If the Repair Tool does not solve the problem (Error report to Sony)
2.1. The system report may help you solve the install error. To get them, open [Applications] > [Utilities] and double-click [System information]. Select [File] > [Save] to save the system report.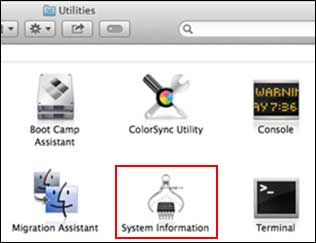 2.2. Report your problem to Sony with the following items.

- System report at step 2.1.
- Crash report at step 1.9 if you get it.
- Screenshot(s) when the problem occurd (step 1.9).