What is PlayMemories Online?
Notice of the termination of "PlayMemories Online" service
And request to download the stored contents before the termination
You can upload photos and videos for easy share with your family and friends.
PlayMemories Online is a cloud computing service for photos and videos provided by Sony. (Free of charge with capacity of 5GB.)
You can do the following.
- Upload photos and videos easily.
- View them on various devices everywhere.
- Share them with your family and friends easily.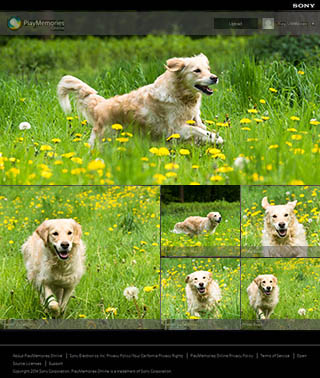 You can enjoy images on various devices anytime and anywhere.
You can easily upload images from tablets and smartphones besides computers to enjoy them on various devices.
The uploaded image data will be resized or converted to other format automatically according to the devices when played back, although the original data is stored on the server without any conversion.
PlayMemories Online
(playmemoriesonline.com)

Tablets and smartphones
(with Android/iOS installed)

By installing the PlayMemories Online dedicated application in these devices, you can upload photos easily after shooting.

PlayMemories Home™


You can upload photos and videos by drag and drop operation from PlayMemories Home computer software.