Cloud service for event photographers
Visual Story
Overview
Subscription plans
Verified mobile devices
How to use
Tips / FAQ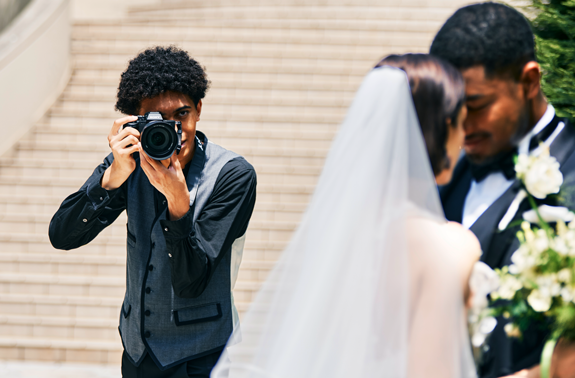 "Visual Story" is a new cloud service for wedding and event photographers that allows delivery of story galleries to clients immediately after the event. In addition, new "Live gallery" feature will allow you to share your photo gallery during the event.
The app and service are available in the following countries or regions.
Supported Sony Cameras
Allows Bluetooth transfer of FTP camera settings to mobile device:
ILCE-1, ILCE-9M2, ILCE-7SM3, ILCE-7C, ILCE-7M3 *1, ILME-FX3
No Bluetooth FTP setting transfer:
ILCE-9 *2, ILCE-7RM4A, ILCE-7RM4
*1 Camera's system software must be updated to Ver. 4.0 or later.
*2 Camera's system software must be updated to Ver. 5.0 or later.
In addition to images imported directly from an SD card via an SD card reader, images imported to a smartphone from Imaging Edge Mobile can also be used.
It may be possible to use a camera from another manufacturer/brand if it supports the FTP transfer function. However, non-supported models are not covered by the operation guarantee or by support, so please be sure to perform your own trial with any non-supported brand before purchasing Visual Story to use with that camera.
You need to update the system software of the camera to the latest version.
Depending on your country or region, some products may not be available.
Updates
2021-09-13

Visual Story 2.0 has been released.

2021-05-20

Visual Story 1.1.2 has been released.

2021-03-30

Visual Story 1.1 has been released.

2020-12-01

Visual Story 1.0 has been released.
Operating environment
Visual Story mobile app
Story gallery / Live gallery / My Page
Windows
OS: Windows 8.1, 10
Browser (use the latest version):Google Chrome, Firefox, Microsoft Edge
Mac
OS : MacOS 10.13 - 10.15, 11 (Excluding Macs with Apple silicon)
Browser (use the latest version):Safari
iPhone/iPad
OS : iOS 13.0 - 14.7
Browser (use the latest version) : Safari
Android
OS : Android 6.0 - 11.0
Browser (use the latest version) : Google Chrome
Recommended environment for FTP connections
SD card: Cards with fast write speeds are recommended.
Access point: Access points which support 5 GHz are recommended (in the case of models with a Wi-Fi Frequency Band setting)
JPEG image size: Less than 26 M (megapixel)
Use a smaller JPEG image size or lower quality if transfer seems to take too long.
Recommended environment for Visual Story
Use in a relatively stable network environment is recommended.
Access points which support 5 GHz are recommended.
If you are using iCloud Backup, confirm that there is enough free space to back up the imported images on iCloud using Visual Story.
Use of mobile devices with 4GB or more memory is recommended.
Supported Image types
The following image types are supported.
Photos: JPEG only. RAW images and HEIF images are not supported.
Movies: Proxy images in XAVC S HD format only. Up to 100 movies can be imported into Visual Story.
Image size
Images transferred to mobile devices and uploaded to story galleries are automatically reduced so that the short edge is 1,080 pixels (to create an approx. 2 megapixel image). Images exceeding 2 megapixels are resized to be approx. 2 megapixels.
In the case of movies, only movies up to 5 minutes long are supported. Movies longer than 5 minutes cannot be transferred to a mobile device.
Contact Us (For US only)
Phone Support
1-866-210-6328 *Press 2 for photographer support
Hours of Operation