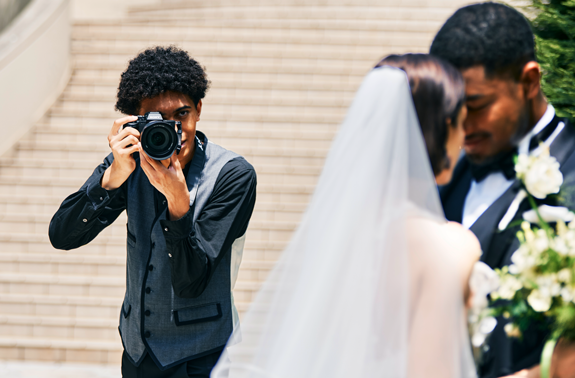 Visual Story dramatically improves workflows for photographers and video creators. Images are transferred automatically to the smartphone and can be easily selected and edited, enabling fast on-site production and delivery of story galleries. Use the live gallery feature for automatic real-time sharing of galleries with AI-selected photos as they are captured at events. Social media posting is supported, so the clients can share special memories with their families and friends on the same day, which will please their guests to satisfy clients.
The app and service are available in the following countries or regions: USA
The Visual Story icon has changed.


Updates
2022-05-12

Visual Story 2.3 has been released.

2022-01-31

Visual Story 2.2 has been released.

2021-10-21

Visual Story 2.1 (iOS) and Visual Story 1.0 (Android) have been released.

2021-03-30

Visual Story 1.1 (iOS) has been released.

2020-12-01

Visual Story 1.0 (iOS) has been released.
Visual Story service overview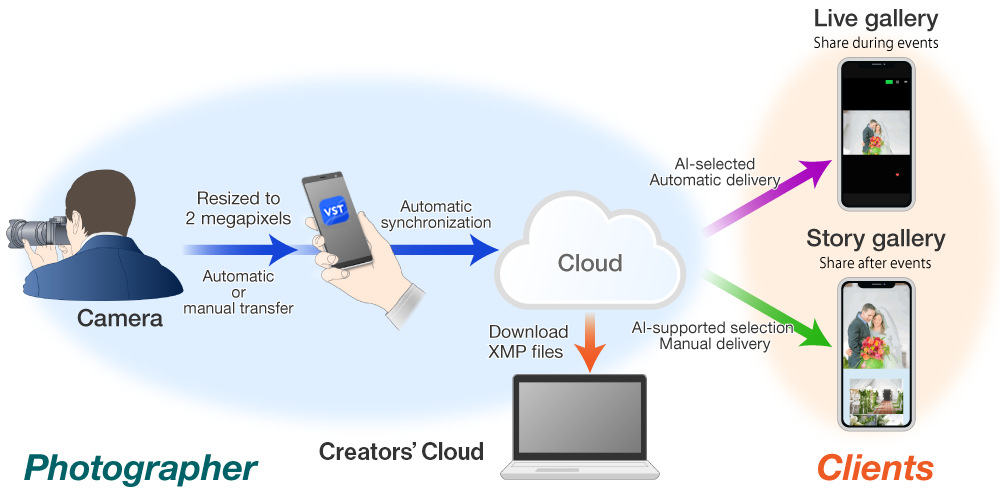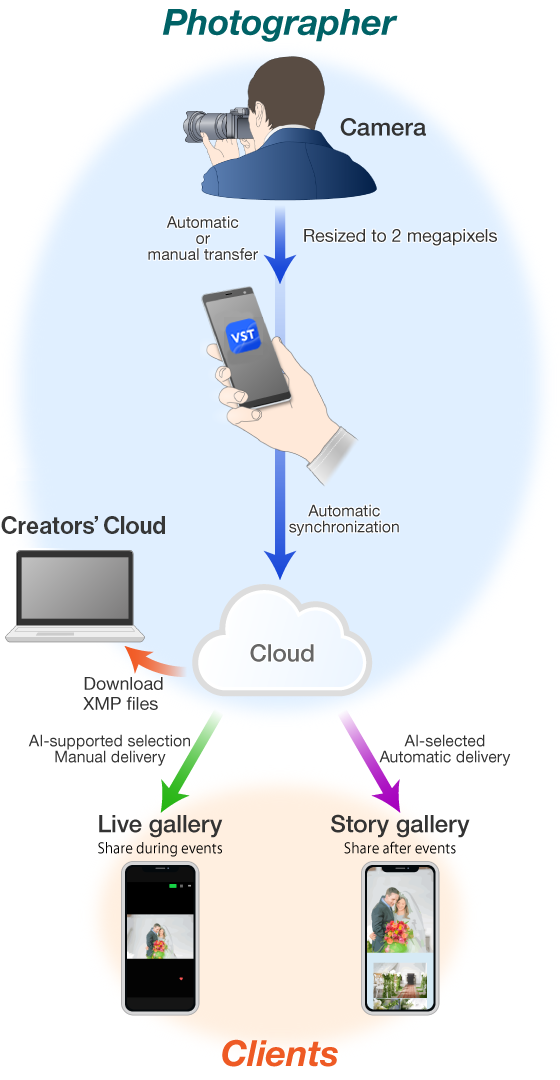 Live gallery
The photos you shoot are analyzed and selected using AI, then uploaded automatically in real time to a live gallery.
The photographer can decide whether or not to create live galleries.
The only operations the photographer performs are starting and stopping streaming.
Each live gallery is active for 24 hours, and only photos are supported.
Story gallery
This is a gallery containing images selected after the event by the photographer for delivery to the client.
Each story gallery is active for one year, and both photos and movies are supported.
Movies must be transferred manually. (Excluding camera models that support automatic transfer of movies. Refer to Supported Cameras for details.)
Operating environment
Visual Story mobile app
Online functions (Story gallery, Live Gallery, etc.)
Windows
OS: Windows 10, 11
Browser (use the latest version):Google Chrome, Firefox, Microsoft Edge
Mac
OS : MacOS 10.15, 11, 12 (Excluding Macs with Apple silicon)
Browser (use the latest version):Safari
iPhone/iPad
OS : iOS 14.0 - 15.4
Browser (use the latest version) : Safari
Android
OS : Android 9 - 13
Browser (use the latest version) : Google Chrome
Recommended environment for FTP connections
SD card: Cards with fast write speeds are recommended.
Access point: Access points which support 5 GHz are recommended (in the case of models with a Wi-Fi Frequency Band setting)
JPEG image size: Less than 26 M (megapixel)
Use a smaller JPEG image size or lower quality if transfer seems to take too long.
Recommended environment for Visual Story
Use in a relatively stable network environment is recommended.
Access points which support 5 GHz are recommended.
If you are using iCloud Backup, confirm that there is enough free space to back up the imported images on iCloud using Visual Story.
Supported Image types
Photos: JPEG only. RAW images and HEIF images are not supported. Up to 15,000 movies and still images can be imported for each project.。
Movies: Proxy movies shorter than 5 minutes in XAVC S HD format only. Up to 100 movies can be imported per project. Movies that are 5 minutes or longer, movies shot using smartphones, and movies edited on a PC, etc. cannot be imported.
Image size
Images transferred to mobile devices and uploaded to galleries are automatically reduced as follows.
Still images: Images exceeding 2 megapixels are reduced to be approx. 2 megapixels (1,080 pixels on the short edge).
Movies: Reduced to 2Mbps.
Contact Us (For US only)
Phone Support
1-866-210-6328 *Press 2 for photographer support
Hours of Operation