Image Data Converter is application software to handle RAW data recorded with "α" series cameras. Combining the functions in the previous software, Image Data Lightbox SR and Image Data Converter SR , it is designed to be more user-friendly. With this software, you can adjust settings such as brightness or color on each RAW image, and convert it to the JPEG or TIFF format.

Select images and adjust them easily by switching the modes
View Mode
The View Mode has two display formats, Thumbnail Display and Preview Display. These displays can be switched by clicking the button on the tool bar.
Thumbnail Display
Preview Display
In this mode, select the images you want to adjust.
Edit Mode
In this mode, you can adjust brightness, color, white balance, or other items.
To switch from the View Mode to the Edit Mode, double-click the thumbnail or click the Edit button on the tool bar.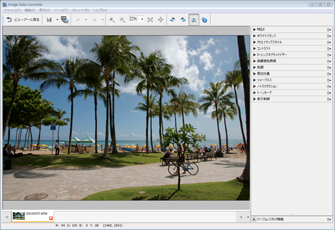 Was this article helpful?

We are holding a simple survey to further improve our services. If you could answer the survey, it would be much appreciated.
Your responses will be used to further develop and improve our products/services. The survey responses will be processed statistically and will not be disclosed in a manner in which an individual can be distinguished.