An application for professional photographers to speed up photo transfers
Transfer & Tagging add-on
Download
Supported Cameras
Verified mobile devices
How to use
FAQ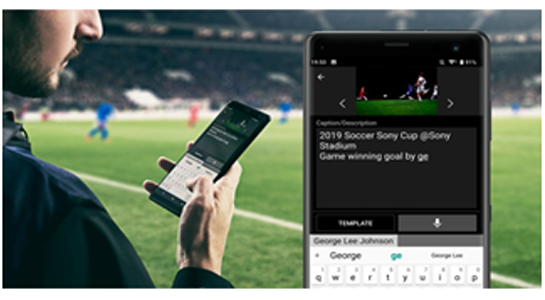 A smartphone and tablet application designed to help professionals by speeding up the transfer of still images.
Fast and efficient asset delivery using "FTP Background Transfer," "Quick Tagging and Captioning."
Recommended environment for operation
Android 7.0 – 10.0
iOS 11.4 – 13.2
Notifications
2019-11-11

2019-10-15

Transfer & Tagging add-on 1.1 has been released.

2019-03-25

Transfer & Tagging add-on 1.0 has been released.
Transfer & Tagging add-on overview (things you can do with this app)
Transfer photos to mobile devices (image import)
Add IPTC metadata
Insert captions

・Voice input*

* This feature is not available to users who are not able to use Google.

・Shortcut key (with caption glossary)

Save and edit the caption glossary using the Imaging Edge online functions
Cropping images
Uploading to FTP server
Operation flowchart
Advance preparation
Image import settings
Creating caption templates and caption glossaries
Creating IPTC metadata presets
FTP upload settings
Image import
Supports adding IPTC metadata when importing images
Turn on the [Auto Trans When Shot] function for the FTP transfer function to enable automatic background transfers during shooting. (Excluding the ILCE-7RM3/7M3)
Add IPTC metadata (incl. captions)
Cropping, resizing (optional)
FTP delivery, sharing to social media
Countries and regions where Transfer & Tagging add-on is available
Transfer & Tagging add-on is available in the following countries and regions.
| | |
| --- | --- |
| Asia | China, Hong Kong, Japan, South Korea, and Taiwan |
| Europe | Belgium, Germany, Spain, France, Italy, Luxembourg, the Netherlands, Austria, Poland, Sweden, the United Kingdom, and other European Union nations |
| North America | Canada and the United States |
| Oceania | Australia |