Using zoom (other than optical zoom)
Zooming options other than optical zoom can bring farther subjects into view. Choose from the following zoom ranges.
[Optical zoom only]

With M or S image sizes, Smart Zoom is available, which enlarges a portion of an image captured at full size.
You cannot use the Smart Zoom function with movies.

[On:ClearImage Zoom]

Zooms by enlarging the zoomed portion using image processing with minimal loss of quality.

[On:Digital Zoom]

The image processing of this zooming method causes some loss of image quality.
Zoom setting
Setting the camera
[Zoom Setting]

MENU → (Camera Settings2) → [Zoom Setting] → desired setting.

[Zoom]

To enable zooming, select MENU → (Camera Settings2) → [Zoom]. Zoom by pressing the top/bottom/left/right sides of the control wheel.

* Use these operations with lenses other than power zoom lenses. When using power zoom lenses, zoom by using the zoom lever or zoom ring on the lens.
Related camera help guide
Guide to using the camera
Assigning [Zoom] to a custom key
It is convenient to assign [Zoom] to a custom key. With lenses other than power zoom lenses, you can simply press the custom key to zoom. Assigning a custom key is especially advisable if you will zoom when shooting movies, because [Zoom] cannot be accessed from MENU.
For example, assigning [Zoom] to the right and left buttons of the control wheel enables you to activate zooming by pressing one of the buttons once, and then you can zoom by pressing them again.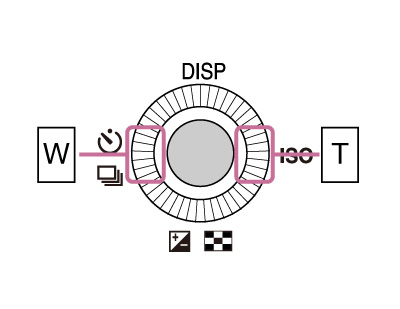 Related camera help guide
Hint
A convenient function is available that enables more accurate autofocus while display is magnified.
Related camera help guide
*The menu screen images on this web page have been simplified for display purposes, and do not exactly reflect the actual screen display of the camera.
Was this article helpful?

We are holding a simple survey to further improve our services. If you could answer the survey, it would be much appreciated.
Your responses will be used to further develop and improve our products/services. The survey responses will be processed statistically and will not be disclosed in a manner in which an individual can be distinguished.