1. Initial setup (iOS)
Before you can start using the Visual Story app and service, you must complete the initial setup, including Imaging Edge membership registration.
1-1. Install Visual Story on your mobile device.
1-2. Start Visual Story and follow the instructions to complete Imaging Edge membership registration or sign in to your account.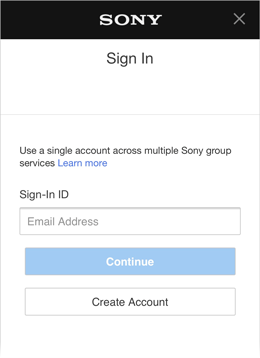 1-3. Enter the photographer information.
Information entered here is displayed with story galleries delivered to clients.
Also configure watermark settings as needed.
2-6. [Watermark] setting
1-4. Set whether images are uploaded to the cloud when you are not connected via Wi-Fi.
Select [Wi-Fi Only] or [Always].
Each image uploaded to the cloud takes up about 1 MB of data.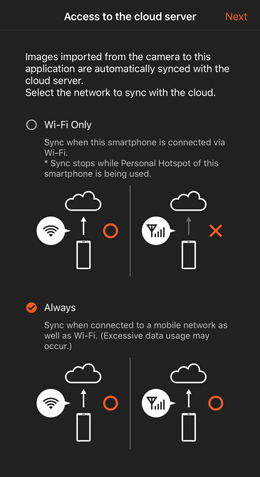 1-5. Tap [Next] to save the information.
The project creation screen is displayed.
To change the initial settings later