Saving videos to a Blu-ray Disc or DVD
The disc creation function is only available for Windows.
You cannot add additional content to the disc after creating the disc. Additional content cannot be added to DVD-RWs, DVD+RWs, or BD-REs either. You can write to the disc again after erasing all the written data.
4K movies are converted to AVCHD.
Insert a new disc into the optical drive of your computer.
You can use Blu-ray Discs or DVD discs to write videos. See the website below about the disc types which you can use to create.
The disc that you can use may be different depending on your optical drive.
Click [Tools] > [Create Discs].
If the [To Create discs, you must download the disc creation feature. Do you want to download it now?] message is displayed, click [Yes].
Select the disc type out of DVD-Video (STD), AVCHD (HD), or Blu-ray Disc (HD).
Select a video from thumbnails, drag and drop it into the right side area, and click [Next].
When you selected DVD-Video (STD)

If the [The selected media files contain files that require authentication] message is displayed, click [Show Instructions for Authentication] to install DVD-Video Add-on Software. Click [Continue Process] if you continue on with the procedure excluding videos which need authentication.

When you selected Blu-ray Disc

The [Select a Blu-ray Disc type] message will be displayed, click [HD (60i/24p)] or [HD 3D or HD (60p)], then click [Next]. If the [To create a disc from these videos, you must authenticate with the server. Do you want to start authentication?] message is displayed, click [OK].
Make sure that videos and the order of videos are listed properly, then click [Next].
The order of playing back video can be shuffled by dragging and dropping thumbnails.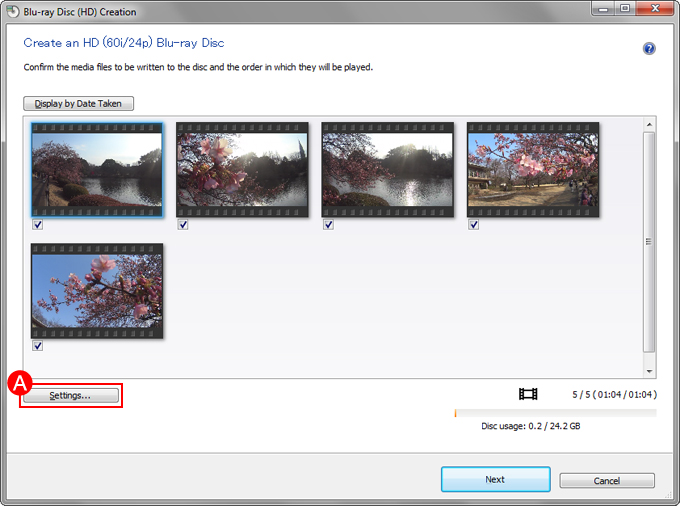 When you select [Create an HD 3D or HD (60p) Blu-ray Disc] and click [Start], disc creation starts. The design selection window of the disc menu is not displayed.
Select the design of the disc menu then click [Start] to start creating the disc.
When the procedure is finished, click [Finish]. If you want to create another copy, click [Copy] and replace the disc.