Importing Images from Handycam to your Windows PC
PlayMemories Home enables you to import (save) the photos and videos you photographed to a computer easily.
Note when you import directly from the memory card
Even when you import videos recorded by Sony-made cameras to your computer, it is required to connect the camera by USB connection for authenticate (first time only).
Turn on the computer. Insert the fully-charged battery into the camera and switch the camera power.
Select the media where the images to be imported are stored by selecting [MENU] >

[Setup] > [Media Settings] > [Media Select].
When selecting [Memory card], make sure that the memory card is inserted into the camera.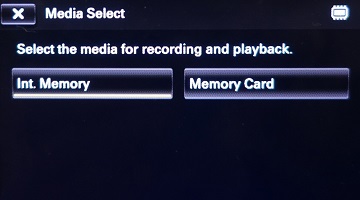 Connect the camcorder to the computer by using the built-in or supplied USB cable.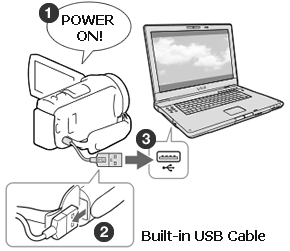 When the below screen is displayed, click [Yes].

When the connection is made correctly, you will get a message saying [Mass Storage connected] on the LCD screen of the camera. You can not import into PlayMemories Home by MTP connection.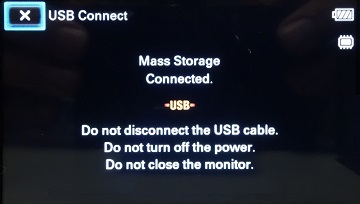 Cautions before the image import is complete
Use the AC adapter to keep the power steady.
Do not close the LCD panel.
Do not unplug the USB cable.
PlayMemories Home will start. The image import window will be displayed when you select [Import Media Files].
When you import images directly from the memory card, PlayMemories Home will start when you insert the memory card to the computer.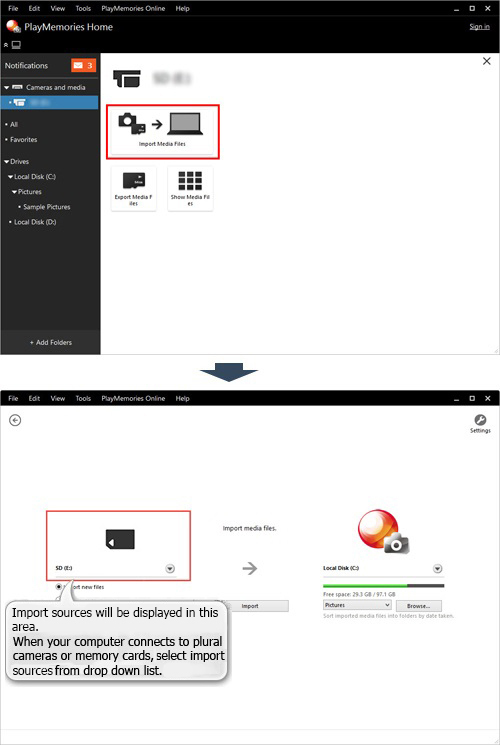 One-point
You can also open the importing screen from the main screen of PlayMemories Home. Select [Camera and media], then click [Import Media Files].

When you select [Select file to import], the photos and videos in the camera or the memory card are displayed. Check on the checkbox of the images you want to import.
Select destination folder to which the images are saved.
By default, the folder will be created in my picture based on the filming date to import file.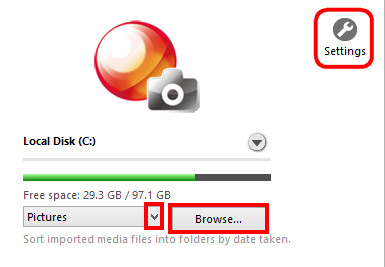 To select the drives on the drop down list, click .
To choose optional destination, select from [Browse...].
To display the present importing destination folder or the previous ones, click .
To change the import settings or the setting of image deletion, select [Settings] and open the setting screen.
Click [Import].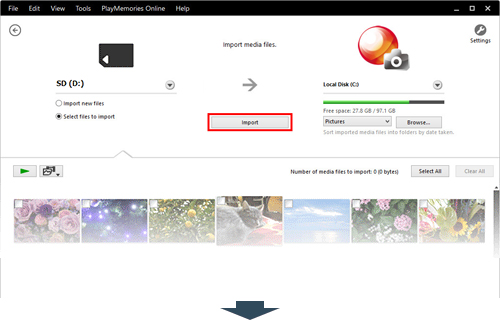 Import completed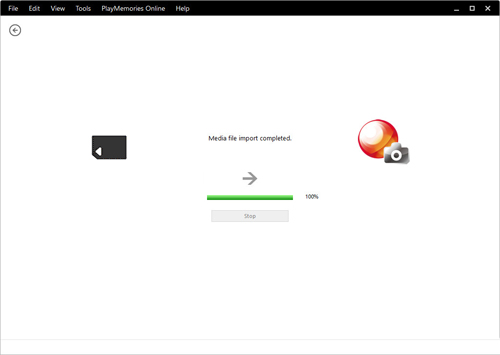 The imported photos and videos are displayed in the PlayMemories Home window.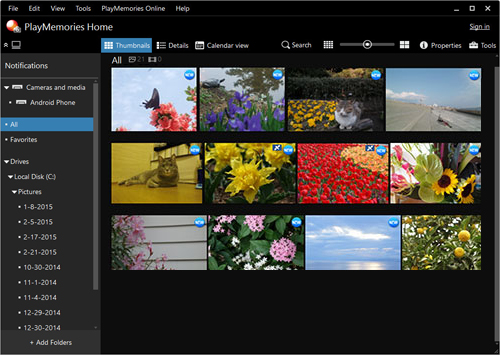 One-point
The

icon is attached to the photos and videos that have just been imported.