Edit window
You can adjust the properties of RAW images (such as exposure, color tones, and white balance, etc.).
You can also adjust JPEG images or TIFF images, but the items that you can adjust are limited to tone curve, shading compensation, etc.
Edit

window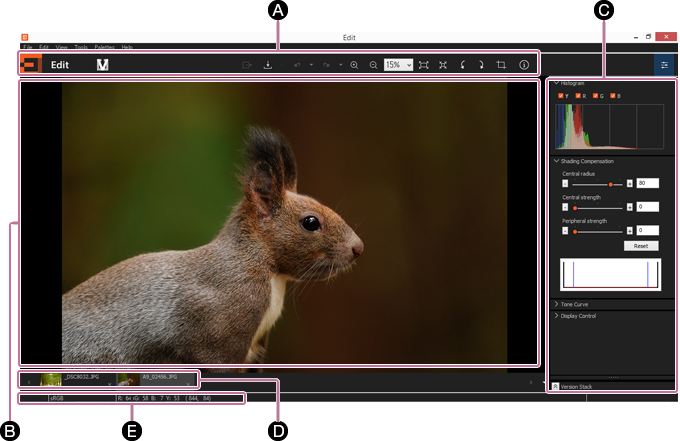 The toolbar contains buttons for functions such as enlarging and rotating the editing window.

This area displays the image currently being adjusted.

You can adjust the image using these palettes. [Details]

This tab displays thumbnails of the currently loaded images. You can choose a different image to adjust.

The status bar displays the color space of the image, color information, and coordinates of the point where the cursor is placed.
Functions of the toolbar

A

Enlargement/Reduction & Display Magnification Setting

You can enlarge or reduce the preview image, and set the display magnification.

The size of the preview image is automatically adjusted according to the window size.

The image is displayed in the same size as the actual pixels on the monitor.

You can rotate the image 90 degrees at a time.

E

Cropping and Inclination Correction

You can crop the image or correct an inclined image. When you crop the image, you can specify the aspect ratio or the image size.

Shows or hides shooting information (Exif information) such as aperture value and shutter speed.